The Flavour Update: Phase I
Hello everyone!
Welcome to another edition of the Civics Expanded+ dev diaries. We'll be looking at the first phase of the Flavor Update. The Flavour Update (update 1.3) will not add any new civics, origins and the like, but will instead overhaul several parts of the mod, mainly the origins. Today, we'll be looking at some parts of the first phase.
---
Phase I – Plagued Society
That's right: phase one is about the Plagued Society origin. Very fitting for what we're going through right now. I always felt that the origin lacked flavour and an interesting storyline — no more! Well, not yet. It is currently being worked one.
To show you the massive changes that are being made, let's compare some of the old feature of the origin with the new ones:
---
Technologies and Special Projects
To start with, there were only two technologies regarding this origin, but now, there's nine! And there's going to be at least three more. Also, there were two special projects previously, but now there's going to be a minimum of six!

This is the first technology towards curing the Beteg Plague, which requires the Genome Mapping technology. After this, the tech tree gets a little more complex.
---
Events
Furthermore, there will be some event chains and independent events too, so that the player doesn't get bored from constant research.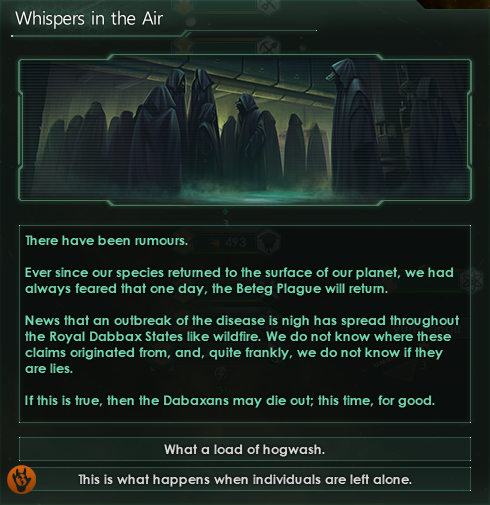 This event is one of the more basic ones, but it is included in one of the event chains.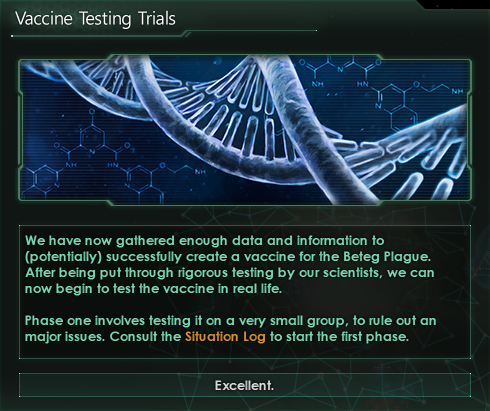 This, however, is an event that is included in the chain of finding a cure for the Beteg Plague. There are several more, as it should take a long time to find a vaccine for a disease, much like in real life.
---
Tech Tree
If you want to partially spoil yourselves, here is the tech tree planned for the plague immunisation branch. This does not include the planetary cleansing branch. The list also includes special projects and the final decision at the end.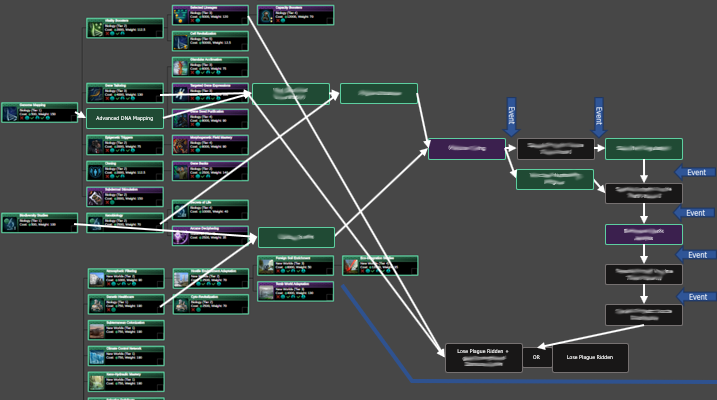 I've blurred out the tech names and some other spoilers, so that your game isn't ruined. This tech tree could be seen as vital, as otherwise, it would be difficult to keep on track with the research.
---
That's it for this dev diary! I know that it's been awhile since the last one, but I did not want to update the mod before the May update, and I also had things to deal with in real life. But now, we're back!
These dev diaries will be biweekly, so there will be one every two weeks. So, the next one will be on the 6th of June.