The road to Edain 4.6: Moria

Greetings, companions of Edain!
After a quiet start into the new year, we want to show you the first big orc realm of the Misty Mountains in Edain 4.6. We had presented our general faction plans a few years back, and much of it has remained unchanged – but several adjustments have also been made, and so we decided to share them with you. The changes to Gundabad and Goblin-Town are a lot more significant, so we'll start with Moria: You will still begin each battle with a Moria encampment and then use pioneers to construct tunnels to expand your base. Here is an updated look at the buildings, units and heroes of the inhabitants of the ancient dwarven realm.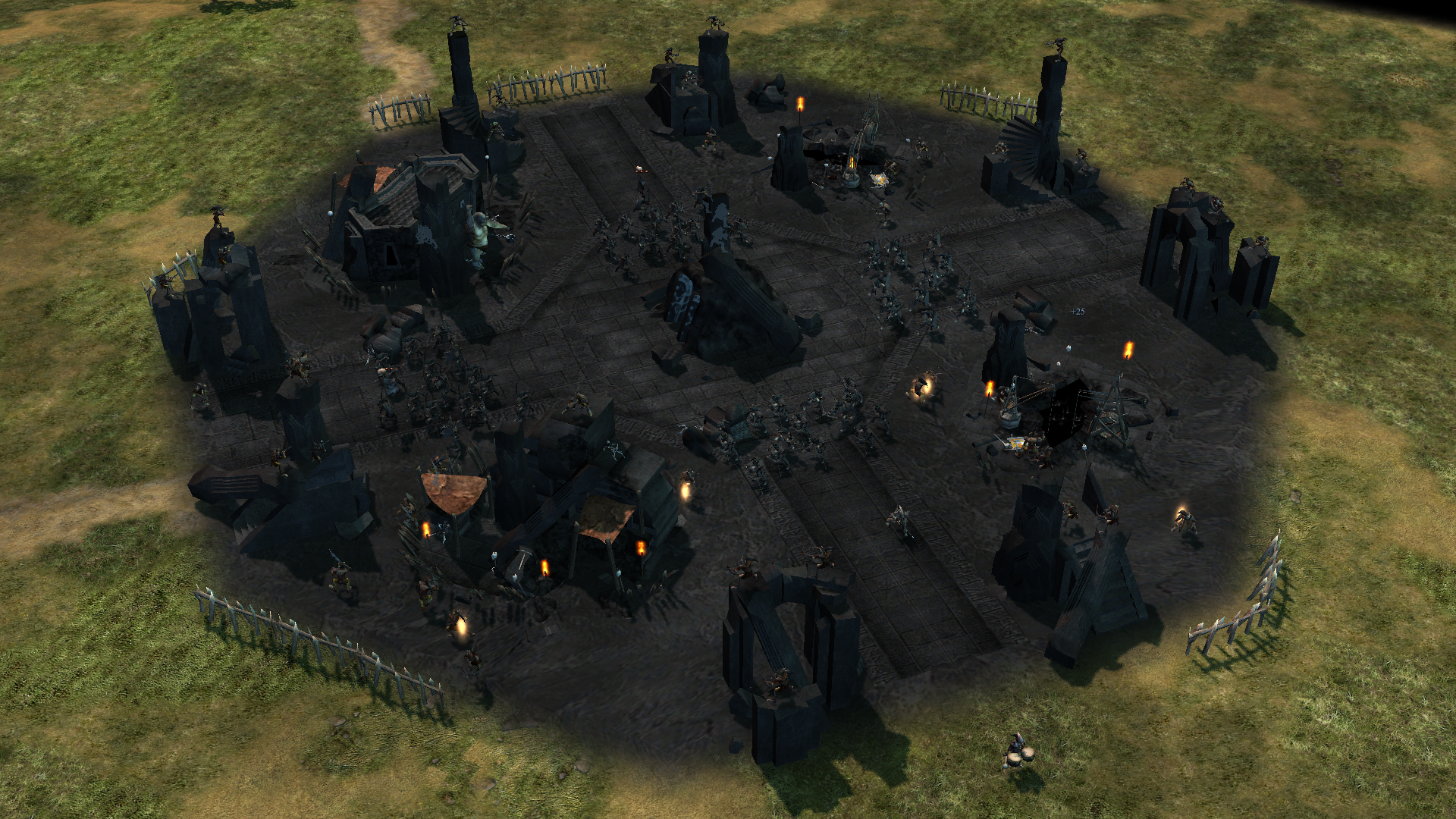 Moria gives you access to the Ransacked Mine, an economy building that reduces the cost of other buildings. Since you will always start with a Moria tunnel, the reduction in building cost is most notable here: The earlier you get it, the faster you can expand your territory.
The Ruin recruits the numerous hordes of weak and devious goblins that the Fellowship of the Ring encountered during their travels. Both Warriors and Archers are quite weak, but they can drag enemies with them to their death through their poison attacks. At level two, it can recruit Moria Drummers.
The Monster Cage recruits powerful beasts that provide much needed combat power. The battle in the Chamber of Mazarbul showed us that Moria wasn't just populated by Orcs, but other, deadlier creatures as well. Like the other two buildings, the model of the Monster Cage is based on old dwarven structures from Moria's glory days. The goblins defiled and took control of them after their previous owners were driven out of Moria by the Balrog.
Units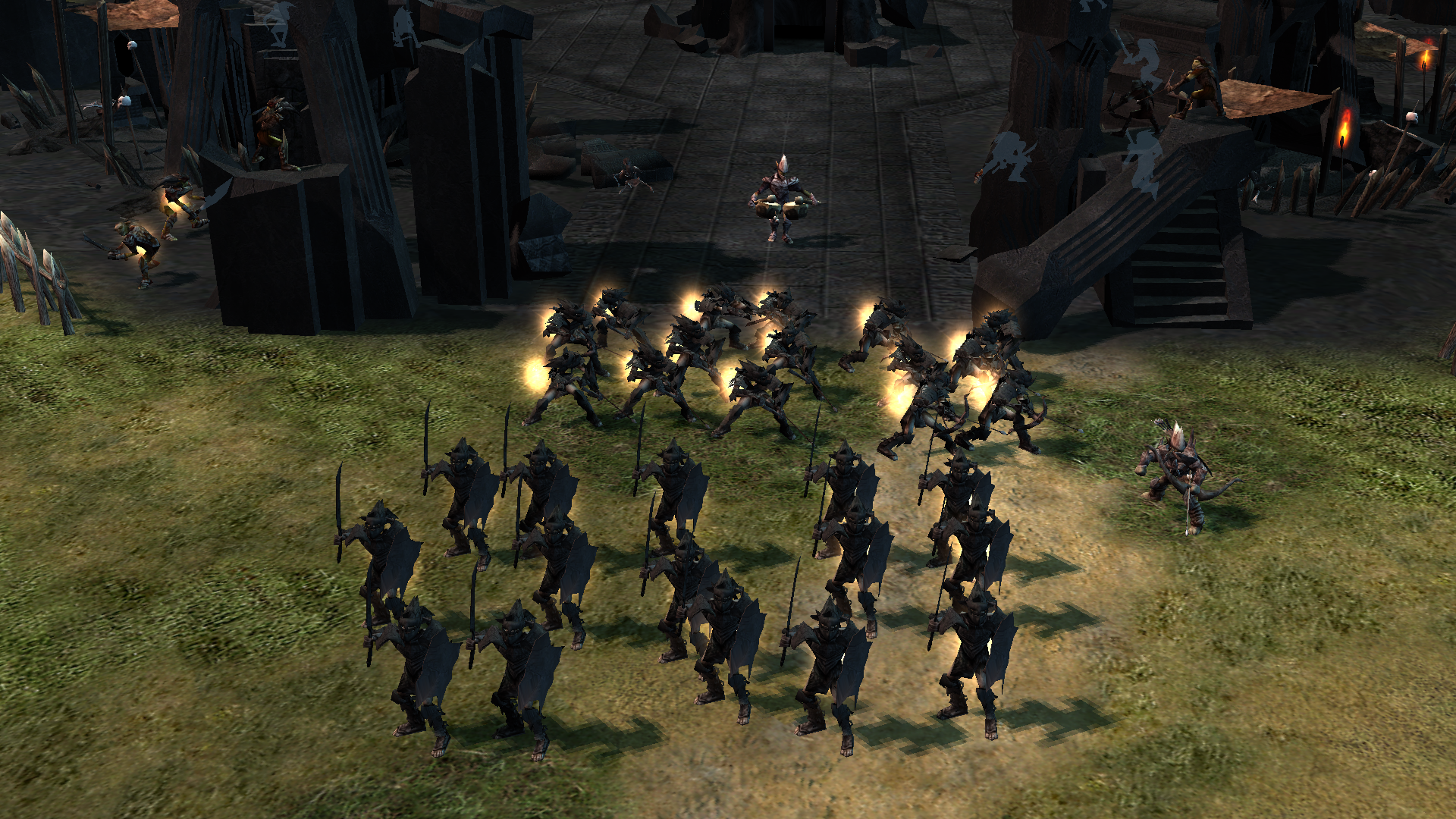 Moria Warriors are available in the Ruin and serve as the starting unit of the Misty Mountains. Although they are rather weak in direct confrontations, they can quickly swarm and flank enemies due to their low cost and fast recruitment. They can activate their poisonous weapons to inflict damage over time to enemies, making them dangerous even from the grave. They use a darker and more intimidating armor than their counterparts from the settlements who don't have access to poison.
Moria Archers are the best archers of the Misty Mountains – but that isn't saying much, because they'll get the short end of the stick against most archers of the other factions. That being said, they also have access to poison to increase their damage for a short time, and their strength lies in numbers, so underestimate them at your own peril!
Ork Drummers are available at level two in the Ruin. They incorporate the theme of drums into the actual army of Moria and provide valuable mobile support, perfect for the swarmy nature of the faction. Goblins near a Drummer gain increased armor, deal more damage and are resistant to fear.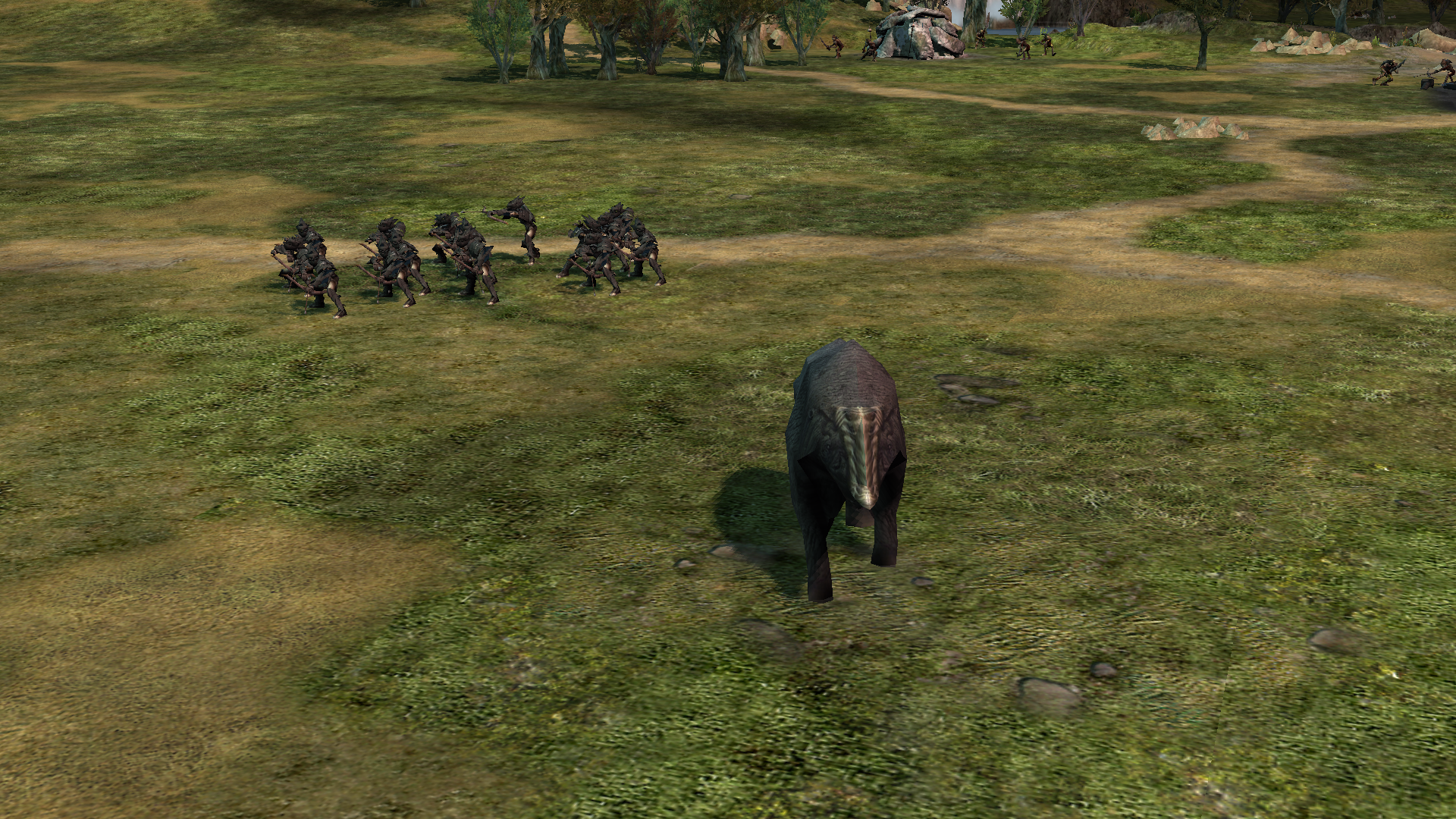 Great Beasts are bred in the Monster Cage. Not quite as intelligent as Trolls (if that's even possible), they are used to attack fortified positions. Even the gates of an enemy fortress can't withstand their assault. Their thick skin makes them practically impervious to arrows, but they are vulnerable to melee fighters getting close and targeting the weak spots on their lower body. Opposed to Trolls, who possess great mobility and a dangerous ranged attack, these beasts are the prime choice against strong defenses with towers and archers, similar to Battering Rams of other factions.
Cave Trolls can be recruited at level two in the Monster Cage. Unlike their relatives, they can't benefit from Mordor's gigantic war machine and don't have access to any armor or weapon upgrades. To make up for this, they deal high damage with their rock throws from a safe distance. Enemy archers will have to be careful, because these trolls aren't easy prey!
As showcased in the past, the design of Gorkil will be used for a new hero in 4.6: The Moria Chieftain who attacked Frodo in the Chamber of Mazarbul. He embodies the style of Moria, where quantity always beats quality, by summoning reinforcements straight into the battlefield. As a ranged hero, he is also hugely important for dealing with opposing monsters. His abilities have largely stayed the same:
– Rank 1 (passive) "Chief of the hordes": With every attack, the Chieftain has a 10% chance to summon a horde of Goblin Warriors to his side. While using the bow, every arrow shot has a 5% chance to summon a horde of archers instead.
– Rank 2 (with sword) "Skull Totem": Plants a skull totem that empowers nearby Orcs.
– Rank 4 "Sword/Bow Toggle"
– While using the bow, Skull Totem is replaced by:
"Trollslaying Arrow": The Moria Chieftain shoots a gruesome arrow at any monster, causing it to deal 90% less damage for a time. Can also be used on your own monsters.
– Rank 7 "Call for reinforcements": New warriors are awakened in the pits and sent out. A chosen tunnel temporarily replaces fallen units of nearby hordes.
– Rank 10 "Vast Legions": Temporarily doubles the chance of summoning Goblins through attacks. While the ability is active, the Moria Chieftain will summon stronger warriors that are already equipped with heavy armor.
We hope you liked this update and are as always looking forward to your feedback!
Your Edain Team