Tyrone lose to Dublin in Under-20 semi-final – BBC Sport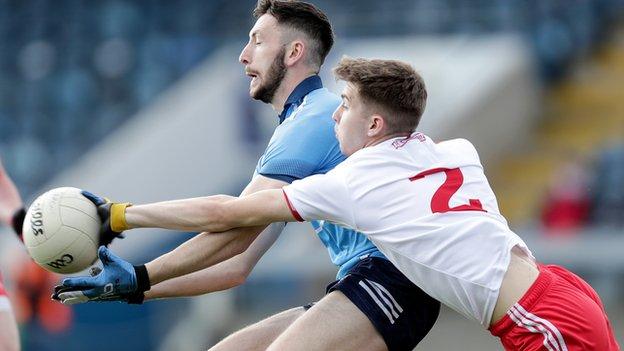 Tyrone lost for a second successive year in the All-Ireland Under-20 semi-finals as Dublin finished with a flourish at Kingspan Breffni Park.
The Ulster champions were ahead going into the final 10 minutes, but the Leinster lads stepped up the tempo.
Tiarnan Quinn's first-half goal helped the Red Hands lead for much of the contest, before Ciaran Archer led the sky blue charge to the finish line.
Galway saw off Kerry 1-15 to 1-10 in Saturday's other semi-final.
The sides were level at 0-2 each, after Darragh Canavan and Tiarnan Quinn had sent over Tyrone points, when the Dubs got in for an 11th-minute goal.
Luke Swan slipped a pass to Brian O'Leary, and he beat Lorcan Quinn with a low, accurate finish into the corner of the net.
Quinn and Canavan added delightful scores at the other end, and at the water break, the Ulster champions trailed by 1-3 to 0-5.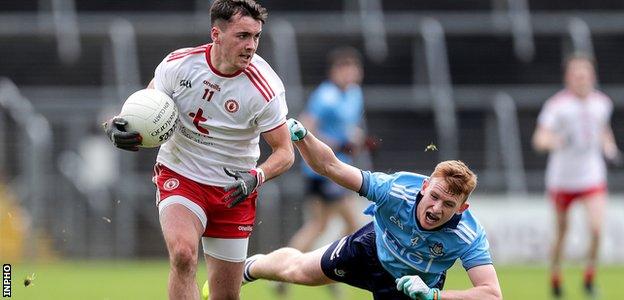 They went in front with a 19th-minute Quinn goal, finished with a first-time effort after Josh O'Neill had saved from Rory Donnelly.
It was a productive spell for the Red Hands, with Ethan Jordan easing them into a lead of four points.
Dublin clawed their way back with two Ciaran Archer scores, and trailed by just two at the break, 1-7 to 1-5.
With the wind in their backs, Dublin narrowed the gap through Archer, but a stubborn Tyrone side stretched the advantage, with Jordan and Simon Garrity giving them a three-point lead.
The pressure was growing on the Ulster side's defence, however, and when Mark Lavin nailed his third score, just a point separated the sides.
Quinn converted a free to put Tyrone two points up at the second drinks break, but the final quarter belonged to a Dublin side that dominated possession.
The Leinster men outscored the Red Hands by 0-5 to 0-1 from there to the finish, with Archer hitting a couple of delightful scores and Kee Gannon and Lowry also on target.
Dublin scorers:
Brian O'Leary 1-1, Ciaran Archer 0-6 (3 frees), Mark Lavin 0-3, Lorcan O'Neill 0-2, Lee Gannon, Sean Lowry 0-1 each.
Tyrone scorers:
Tiarnan Quinn 1-3 (0-2 frees), Ethan Jordan 0-5 (3 frees, 1 '45), Darragh Canavan 0-3 (1 mark), Simon Garrity 0-1.